Anyone who lives in Toronto knows just how hectic this city can be, but according to a new ranking, Toronto has come out on top as the best city in Canada for young adults to have a balanced lifestyle.
The ranking, released by CIA Landlord Insurance, a Landlord Insurance broker in the UK, looked at cities across the world and ranked which ones offered its young adults the best overall living experience.
To do so, they looked at three very important factors: happiness ratings, the cost of a monthly gym membership, and the cost of domestic beer.
Compared to all the cities across the world, Toronto came fourth for having a balanced lifestyle, but it beat out Vancouver — which ranked sixth — making Toronto the top Canadian city.
It had a happiness rating of 7.3, average gym membership price of £31.60 (CAD$55.29), and domestic beer cost of £3.95 (CAD$6.91).
Top 10 Cities in the World for Young Adults to Live a Balanced Lifestyle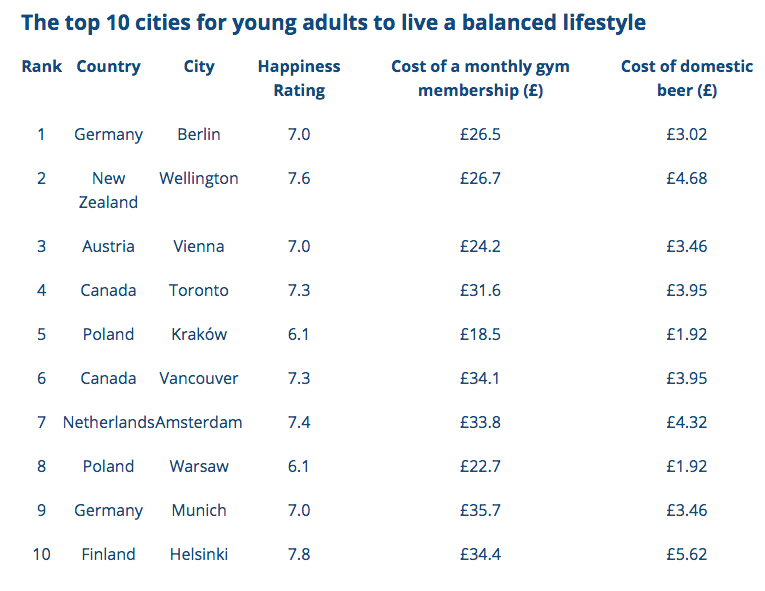 Despite this ranking, Toronto has also recently been named as one of the most "severely unaffordable" cities in the world. The prices of homes across the GTA have been skyrocketing over the past year, particularly in the suburbs, with the average price having surpassed $1 million for the first time ever last month.
Related Article: How To Talk To Canadians the right way
Vancouver Ranks First as the Best City to Buy When You're Young
A study by CIA Landlord has revealed the best cities around the world to buy a house at a young age.
Vancouver ranked as the best city to buy a property at a young age, followed by Wellington and Belfast.
Helsinki was identified as the happiest place to live for young people.
Japan took first place as the best city for job availability with over 10,000 jobs per capita.
The rise of remote working has prompted a great opportunity for young people to move across the world and work from home. For those who are willing to take the leap there are a range of factors to consider when finding the right location.
CIA Landlord has analysed 46 cities to determine where in the world is the best location to buy a property as a young adult. The study analyses a range of factors including the cost of buying a property, job availability, average salary and happiness ratings to determine the best city to buy a property at a young age.
Top 20 Best Cities to Buy When you're Young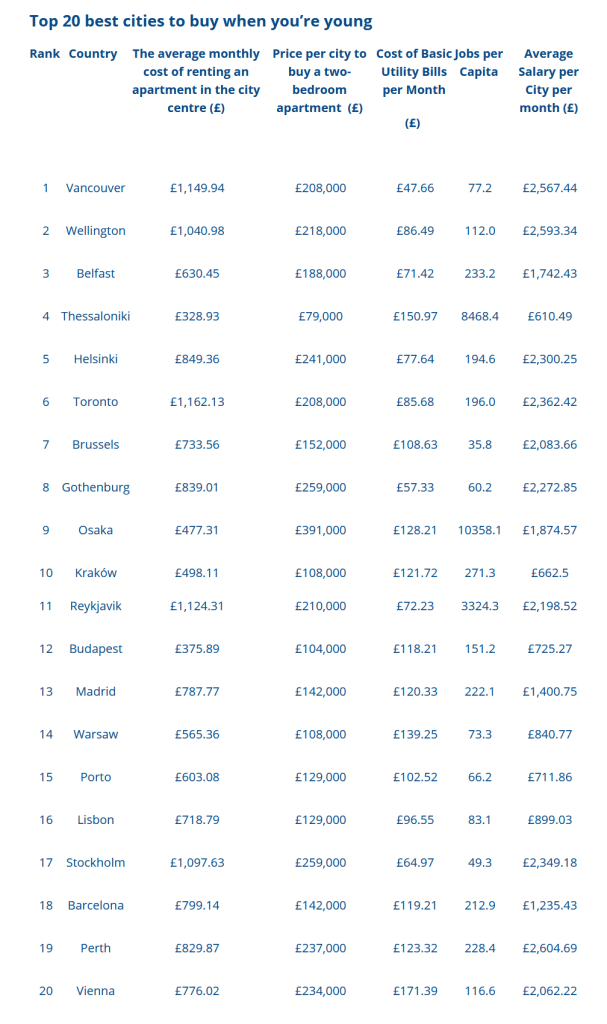 With a score of 7.01, Vancouver takes first place as the best city to buy a property at a young age. This score was a result of Vancouver having higher than average salaries, lower utility costs and lower prices of leisure activities such as gym memberships. Toronto also places in the top 10 rankings, suggesting Canada is one of the best countries to buy a property as a young adult.